Algorave India: Delhi Edition
Written on August 28th, 2019 by Abhinay Khoparzi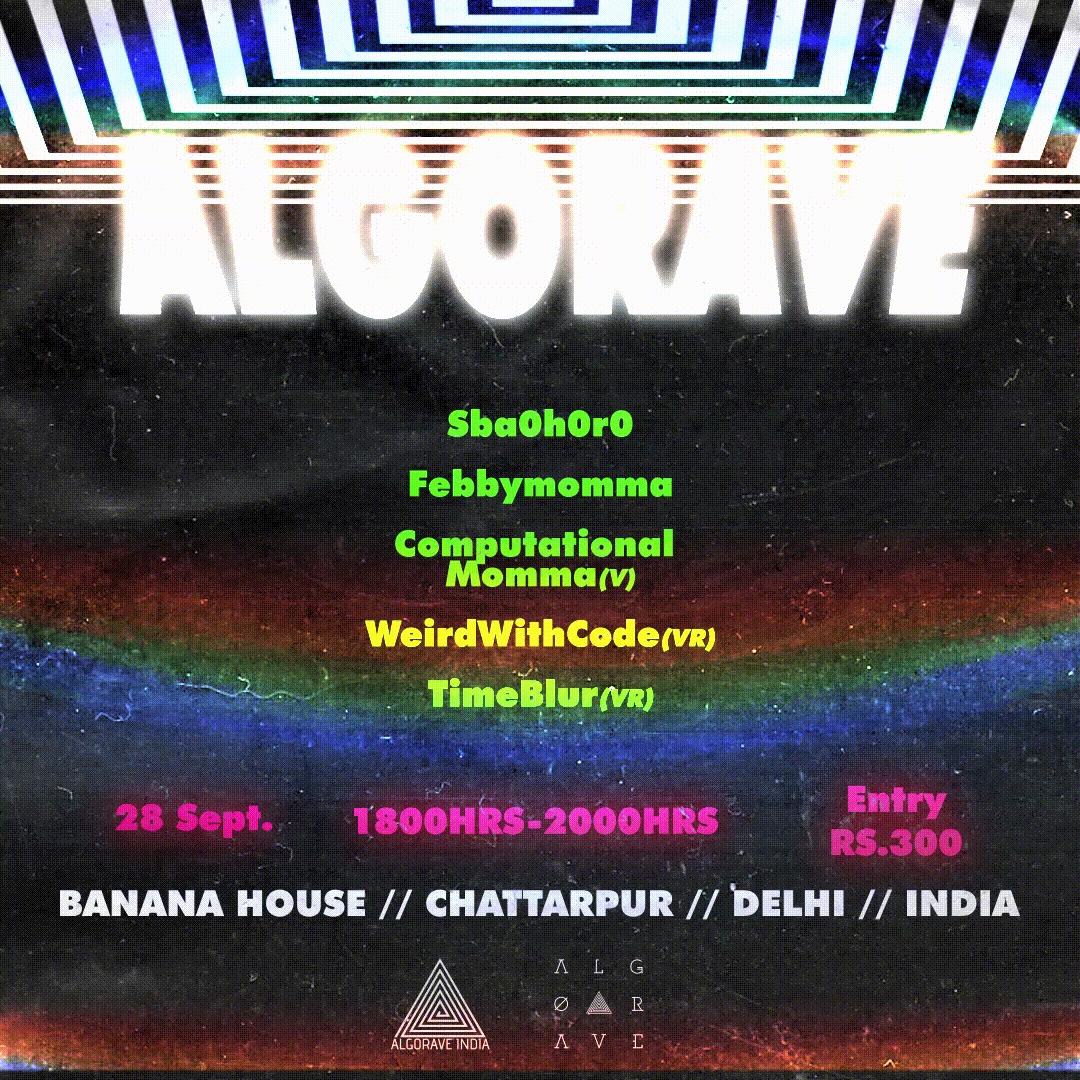 It's been about six months since we were in the capital with a workshop, it's time we get some performances together! We are so glad to announce that we have a very special event coming up in exactly two weeks in collaboration with Banana House in Chattarpur. This is a line up that we have been working towards for a while and are so proud to present.
SuperContinent: An intercontinental network music performance between musician, and researcher Shelly Knotts (UK) and Jessica Rodriguez (Canada) through a unique performance environment called Estuary. The artists will be on two different continents and perform their set through with an interconnect through magic of internet, web audio and live coding.
Sba0h0r0: sba0h0r0 was born in a small __called __ in . Throughout her life, sba0h0r0 has always been fascinated by __ and how ___ __. After completing her degrees in __, ___ and __, sba0h0r0 delved even more into her __ practice of __, which involved loss and regeneration of __. sba0h0r0 was selected as one of the ___ featured in ___ (). sba0h0r0 lives and works in __, surrounded by __, __ and her black raven called Abraxas.
Febbymomma: Delhi's own Mohna Singh has been moving between visuals and djing some very funky music mixing disco and French house for the past few years, this gig presents her first steps in live coding practice.
TimeBlur (algorithmic AV set): Creative entrepreneur, artist and designer Natasha Singh will be presenting an engaging AV set with the generative music and visuals tool SketchSound.
Computational Momma: Lives a dual life as a real life momma and creative coder. This Algorave will see her frying up her computer while belting out algorithmic visuals.