Fat Finger Mayhem - 2019
Written on February 1st , 2019 by Dhanya Pilo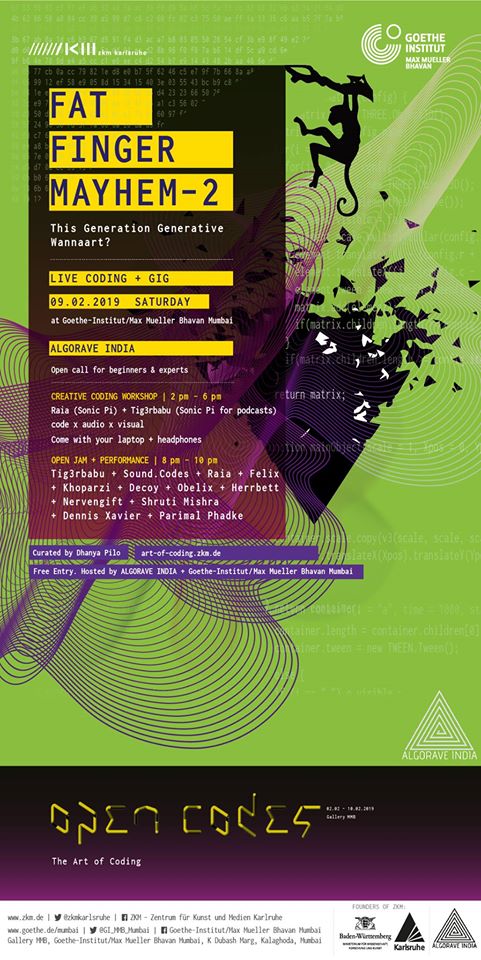 WORKSHOP (2 pm - 6pm) Bring your laptop and learn how to create sounds, rhythms and music with code. The Workshop has been divided into 2 segments. The Workshop is free, register here: https://goo.gl/forms/Pc3xBT8QN0Unlp472
Sonic Pi workshop by RAIA In the intro to Sonic Pi, participants learn and play with the fundamental functions and fx of the platform. Live loops, samples and synthesizers are engaged using code of a pop song example. All ages welcome & no previous coding/music experience required! Sonic Pi (www.sonic-pi.net) is a live coding synthesizer with a diverse community of over one million live coders

Coding music for podcasts by Joshua Thomas /Tig3rbabu How can you use Sonic Pi to help streamline the composing process? When it comes to doing Sound Design and Music for Podcasts, in this session I'll be giving some insight into how I've been using the program to help sketch ideas and workout music arrangements for all the shows currently on Express Audio (Indian Express' Podcast channel). We'll be going through 2 briefs for shows that I have worked on, and through the process I'll be covering how to approach conveying the mood of a brief, tips and tricks and I'll also be giving you a list of free online resources and repositories that will help evolve your skill and build your library of sounds. Everything will be coded in Sonic Pi.
PERFORMANCE (8pm - 10.30pm)
SOUND.CODES FELIX RAIA NERVENGIFT TIG3RBABU HERRBETT OBELIX DECOY KHOPARZI PARIMAL PHADKE SHRUTI MISHRA DENNIS XAVIER
An open source live performance of 6-8 data musicians and data visualists and dancers – live coding the fuzzy logic of the city. The audience moves around the performance consoles, getting a closer look at the process while some audience can also influence the codes via specially designed apps on their phones or other code triggers.
events/ffm-2018.jpg